¿Conoce qué es la mesoterapia facial?
Have you heard what facial mesotherapy is ? It is a technique of micro injections with very small needles that contain different substances depending on the result that you want to achieve on the face.
The most common substances used for rejuvenation with facial mesotherapy are: vitamins, minerals, amino acids, coenzymes, hyaluronic acid, antioxidants. You can use one of them or make a combination of several of these assets. 
How is rejuvenation performed with facial mesotherapy?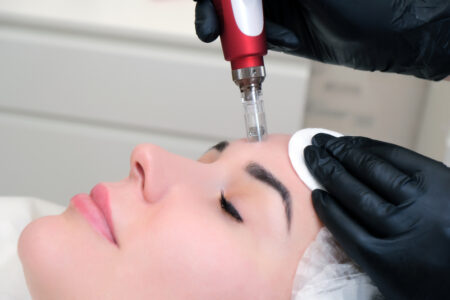 Mesotherapy sessions last approximately one hour and are developed as follows:
Facial cleansing with make-up remover. 

The mesotherapy treatment agreed between the doctor and the patient begins on the face, neckline and other selected areas.

It can be done with a postor or manually with very fine needles.

A soothing mask is applied to soothe irritated skin.
One of the benefits of mesotherapy is that it is a practically painless treatment ; however, if the person is very sensitive, an anesthetic cream can be applied half an hour before the session. You should also take into account that the same day of the session, the skin may look red from the needles, but the next day it will already look good.
If you liked this topic, you might also be interested in the following articles: 
Benefits of facial mesotherapy
Revitalizes, regenerates and hydrates the skin at a deeper level.

Provides luminosity, freshness, shine and thickness to the skin.

Activates blood circulation.

Corrects fine wrinkles.

Improves spots and skin pigmentation.

Promotes the formation of collagen and elastin.

Counteracts the effects of free radicals on the skin, especially after sun exposure.

It is mainly done on the face, neck, and décolleté, but it can be done on the thighs and hips.

It is a painless and safe treatment.

It can be done at any time of the year and at any age.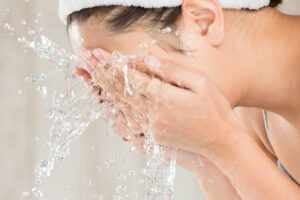 Precautions
Although rejuvenation with facial mesotherapy is a simple and superficial procedure , as in any surgical treatment, there are important considerations to take into account. Between them: 
Avoid the menstrual period.

Although this does not directly affect the outcome of the treatment, the patient may present a greater degree of sensitivity.

Do not take

NSAIDs

(nonsteroidal anti-inflammatory drugs, such as aspirin, ibuprofen, and naproxen) or aspirin for seven days before and after treatment.

Do not wear makeup

for at least twelve hours after the procedure. 

Avoid prolonged exposure to the sun

and saunas.
It is recommended that older people carry out this treatment every 3 or 4 months, while young people can resort to it twice a year.
If you want to know more details about what facial mesotherapy is, you can contact the Doctor Alfredo Vargas Clinic and we will gladly explain everything you need to know before performing this procedure.